Contenders Basketball is in too!!
Contenders Basketball is in too!!
2019-20 Panini Contenders Basketball Rookie Ticket Autographs and More
For more than 20 years, Rookie Ticket Autographs have been a cornerstone of the Contenders brand. While much of that history is in football, the theme has been catching on in hoops as well. The ticket theme is the foundation of the design but the on-card signatures help anchor their appeal. In addition to their base versions, Rookie Ticket Autograph parallels include Cracked Ice (/25) and Championship Edition (1/1).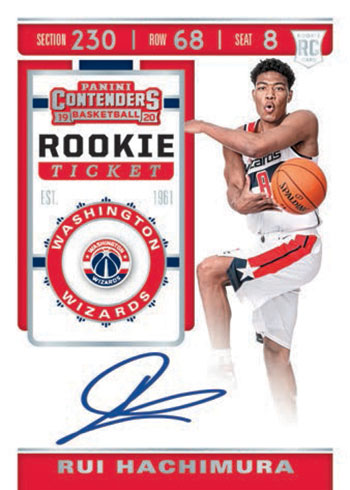 There are also Premium Edition versions that are done with chromium stock similar to Contenders Optic. Among the Premium Edition colors are available in Gold (/10) and Gold Vinyl (1/1). Green Shimmer cards are exclusive to retail.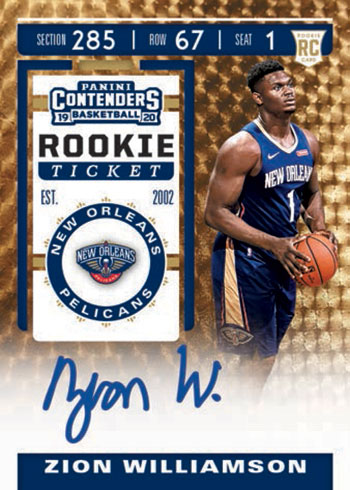 Variations are also available, offering further versions to chase. These use different photos.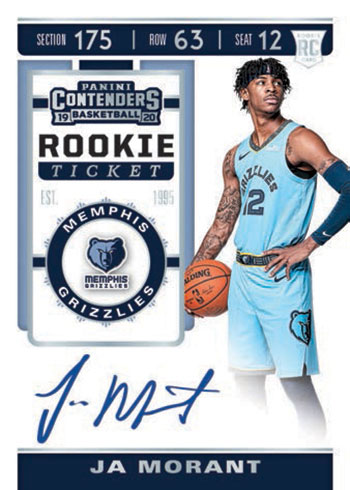 New in 2019-20 Panini Contenders Basketball are retail-only Rookie Season Ticket Stickers. According to Panini, the 20 players featured on these cards are different from the Rookie Season Ticket cards found in hobby packs. Sticker parallels are available in Playoffs, The Finals, Stub, Cracked Ice, Premium Edition, Printing Plates and Championship.
The Rookie Ticket theme carries over to some of the product's lone memorabilia cards. Both Rookie Ticket Swatches and Rookie Ticket Swatches Duals are only found in blaster boxes. Dual-player versions have Prime (/10) and Tag (1/1) parallels as well.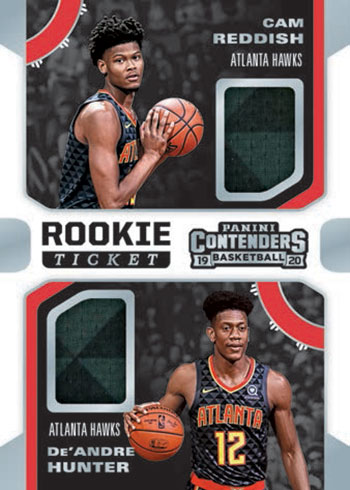 Additional Autographs and Inserts
Veterans and retired stars get in on the signature ticket action with Veteran Season Ticket Autographs. These also have on-card signatures. Similar to rookies, Premium Edition Green Shimmer parallels are only in retail.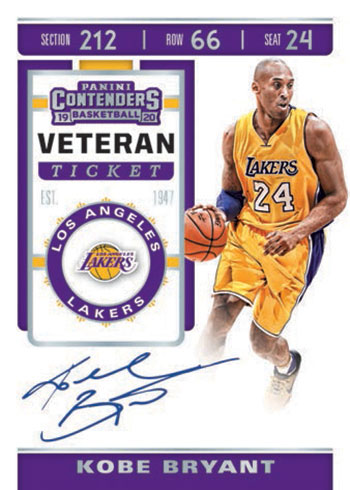 Signed cards go beyond the ticket theme as well. Among them are Sophomore Contenders Autographs, which spotlight second-year players, and MVP Contenders Autographs.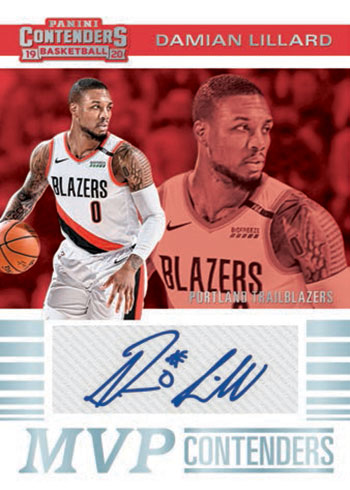 2019-20 Panini Contenders Basketball has several other additional inserts. License to Dominate and Permit to Dominate are both short prints, meaning they're tougher to find than most. Designs for both look like driver's licenses.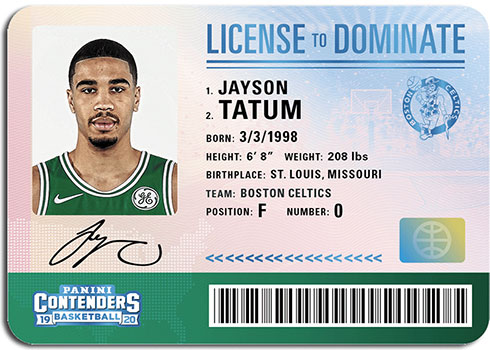 2019 Draft Class Contenders, Front Row Seat and Winning Ticket are among the retail-only insert sets.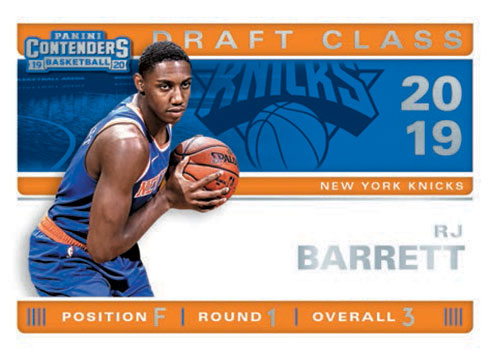 As far as main set parallels go, retail has some additional exclusives. Game Ticket Green and Game Ticket Purple (/25) are only in fat packs. Game Ticket Red and Game Ticket Blue (/49) are in blasters.
2019-20 Panini Contenders Basketball cards at a glance:
Cards per pack: Hobby – 10, Blaster – 8, Fat Packs – 22
Packs per box: Hobby – 12, Blaster – 5, Fat Packs – 12
Boxes per case: Hobby – 12, Blaster – 20, Fat Packs – 20
Set size: 165 cards
Release date: January 3, 2019
What to expect in a hobby box:
- from Beckett.com